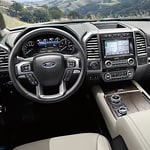 The all-new Ford Expedition is packed with advanced technology features that are sure to impress. If you're in the market for a new SUV, be sure to check out this vehicle! In this blog post, we will discuss some of the most important technology features that are available on the Ford Expedition.
One of the most impressive technology features that is available on the Ford Expedition is the SYNC® infotainment system. This system allows drivers to stay connected and control various vehicle functions using voice commands. The SYNC® system is easy to use and helps to keep drivers safe while on the road.
Another great technology feature that is available on the Ford Expedition is the Blind Spot Information System (BLIS®). This system uses sensors to detect when another vehicle is in your blind spot and alerts you with a warning light. This feature is extremely helpful and can help to prevent accidents.