Best Fuel Economy Ever . . .
Ford's full lineup of fuel efficient vehicles
means real choice for you
Click the pics for more information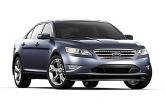 Focus - Up to 38 mpg highway Fusion - Up to 34 mpg highway Taurus - up to 31 mpg highway

ESCAPE - Up to 33 mpg highway EDGE - up to 30 mpg highway
Fiesta - Up to 40 mpg Highway C Max Hybrid - Up to 47 Combined City/Highway

7 great vehicles from Ford with exceptional economy ratings *
* "up to" estimates assume 70 mph or less/Hwy All in stock and ready to deliver!
See us today for a test drive and price on your favorite vehicle.
Check our HOT new models HERE