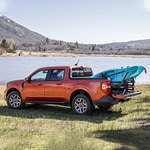 Inside, the Ford Maverick truck at Tony Betten & Sons Ford is packed full of helpful technology features that make it stand out from its peers in the same class. The Ford Maverick has a big 8-inch center touch screen that offers users a good viewing angle. Its size is just enough to provide a clear view of the display without distraction. This large screen makes it easier for the driver to operate their truck.
The Ford Maverick also comes with the Apple CarPlay and Android Auto compatibility, which makes it easy to connect your smartphone to your truck through the touchscreen. This feature allows you to place calls, navigate the city, enjoy games, or check social media.
With SYNC® 3, you can easily control most functions with one touch on the touchscreen. The Ford Maverick truck has a 4.2-inch screen located in the middle of the instrument panel. The screen has a large viewing angle and is easily visible even when driving at night in Grand Rapids, MI. The screen has a high-resolution display to ensure you see the images.