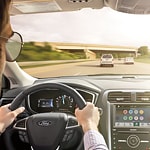 If you have been looking at mid-size sedans, you may not a trend. Not many of these vehicles place a big priority on performance. However, the Ford Fusion is different. It is built with a number of available performance features. Here's a look at what you will find on the latest Fusion model.
The Fusion is one of the few sedans in its class that offers an Intelligent All-Wheel Drive system. With Intelligent All-Wheel Drive, the vehicle is able to revert back to front-wheel-drive with the all-wheel-drive system is no longer needed. This helps reduce the drag on the vehicle. Also, the Fusion offers Auto Start/Stop Technology. This feature will shut the engine off when the vehicle is at a full-stop. This will help preserve fuel and save you money at the fuel pump.
See all the top performance features of the Ford Fusion. Take the Fusion for a test drive at Tony Betten & Sons Ford in Grand Rapids, MI.